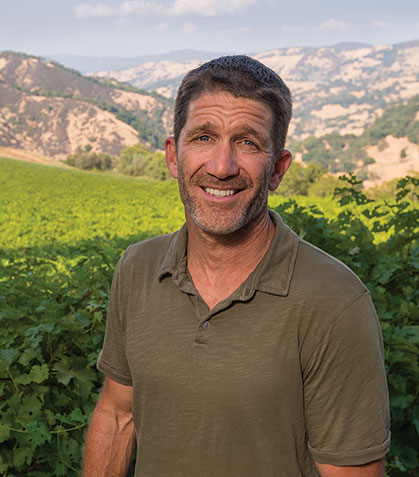 Vineyard Manager
Peter Chevalier
Hunting for the right vineyard management team is daunting. Fortunately, our friends in Mendocino shared Peter's name with us. Peter has now been with us for about five years. Peter and his wife, Jode, are an excellent complement to one another.
Peter had worked with Kendall Jackson Winery as a sugar sampler before he attended Fresno State College-with a strong recommendation by his boss at KJ. He earned his BS in Viticulture and Tree Fruit in late 1997. While attending school, Peter and Jode worked and studied part-time; they are both self-made professionals.
Since 1998, they have been running Chevalier Vineyard Management as a team. When they started, they were managing 96 acres utilizing the owner's equipment. Today, they are in charge of 1500 acres in Mendocino and Lake Counties. They are well versed in Sustainable, Organic and Biodynamic farming; they are clearly passionate about their work. Peter runs their farming team and Jode manages the administrative aspects of a thriving vineyard management company. Their long-term, dedicated employees take the same great pride and ownership in their work. Our grapes have never been healthier and more abundant.